Archive for the 'Work' Category
If you can read this, then somewhere, somehow, a Systems Administrator is to thank. And for that reason, the last Friday of every July has been dubbed as Sysadmin Day. Hmmm. So today is the 8th annual SysAdmin Day, isn't it? Maybe you should go find your IT people and shake their hands. Give them a pat on the back. Make out with them.
What is a Sysadmin? According to sysadminday.com, it's someone who takes care of computer systems, phones, network, servers, backups, desktops, etc. So with that in mind, I salute anyone of these fine folks who handle the day to day headaches users cause them. Leading myself to personally invest in Extra-Strength Advil.
So far today, no one is showing me or Horbi much love. I haven't heard from Brian, but no one usually shows him love anyway. I'd like to think it's because very few people know about the significance of this glorious day. So get the word out. It's in your best interest. Trust me.
Your IT department can do so much for you. I would imagine that the ones that remember to take care of their IT folks on this day would surely jump to the front of the line when it comes to taking care of their issues. Just a thought. And IT teams have great memories, so if you do (or don't) show them some appreciation, they'll remember.
Free advice: Don't bite the hand that feeds you.
Happy SysAdmin Day, brothers!
-Dave Q.
Today is my first day back working in a facility that I haven't been at in about 3 years.  This is the site that I first started out at, so it's a homecoming of sorts.  Except that there is about a 90% change in the people that were here back then to who is here today.  I barely recognize most of these people.  And I've already gotten the "who are you?" look from a couple of people.  They don't realize I've been with the company for over 6 years.  But there are a few familiar faces.  Namely my good friend Brian.  A fellow IT Analyst.
This is me and Brian in this building about 4 years ago.  Look at me then.  So young.  So vibrant.  So full of life.  Not a care in the world.  And Brian.  He, unfortunately, still looks like this.  He and I go way back.  Kind of like Han Solo and Chewbacca.  Naturally, Brian would be Chewbacca, since he's taller.  And ugly as sin. ;)  That might be too harsh.  Let's just say he's not as good looking as Chewbacca.  Yeah.  That's sounds better.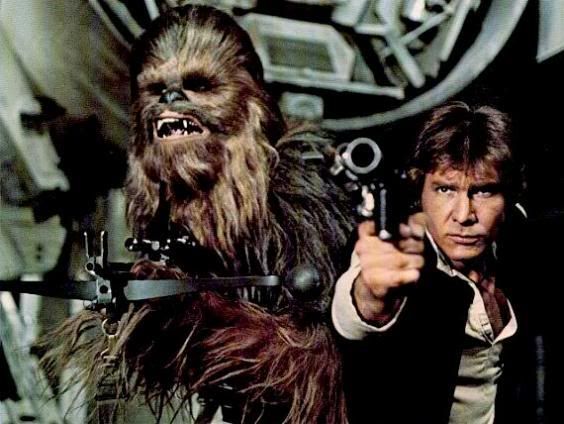 Anyway, it's good to be back.  I will miss my friends from the other facility I was at.  They took care of me.  Particularly, Maria, Hilda, and Romy.  They would always hook me up with breakfast.  Which was good since 83% of the time I was running too late to pick it up myself.  I am fairly certain I won't get that kind of love here.  But I'll survive.  I think…
-Dave Q.
So I had been getting away with dressing casual at work for a while now. But those days are over. My supervisor let me know yesterday that we needed to dress more appropriately in the office. Apparently he has something against flip flops and t-shirts that promote alcoholic beverages. Kidding.
But seriously, I know he just wants us to have a professional appearance. And he's not a bad guy or anything. He's just watching out for us. And no, he doesn't read this blog. Or if he ever did, I know he wouldn't be reading it anymore. He doesn't always get my sense of humor. Imagine that.
So now I have to start taking my clothes to the dry cleaners again. And getting up earlier to iron. And shine my shoes. Don't get me wrong. I want to look sharp. But that's a lot of effort to put forth when you're just going to work. I wish there was someone I was trying to impress. At least that would motivate me.
-Dave Q.