Archive for October, 2010
I've never liked the Yankees.  I don't want to go into all the reasons why, since I need to get some sleep and the list of reasons is endless.  But I know I'm not the only one.  And after tonight's game, I'm pretty sure there are more people out there that feel the way I do.  Check out this retard…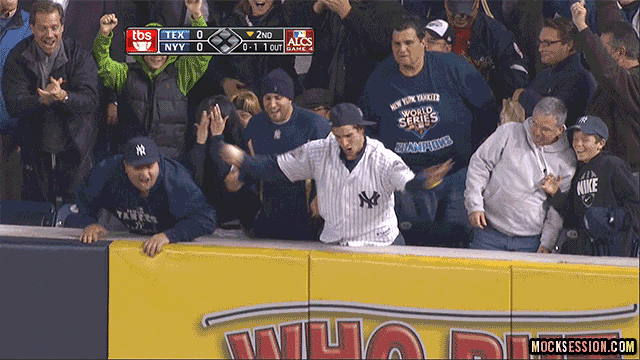 I present to you, Exhibit A, as to why Yankees fans can't understand why most knowledgeable people can't stand the Yankees, and therefore, can't stand Yankees fans.  He interfered with a play that Rangers outfielder Nelson Cruz was trying to make.  And then does this crap.  What a douchebag.  Ironically, if you Google "yankees douchebag", the above gif file is the first thing that comes up.  Way to represent Yankee Nation, ass-clown.  Also worth checking out are the real classy fans all around him.  Pay particular attention to the fat guy a row behind him.  Read those lips.
The sweetest thing of this display of douchbaggery?  The Yankees would go on to lose the game 10 – 3.  Owned.
-Dave Q.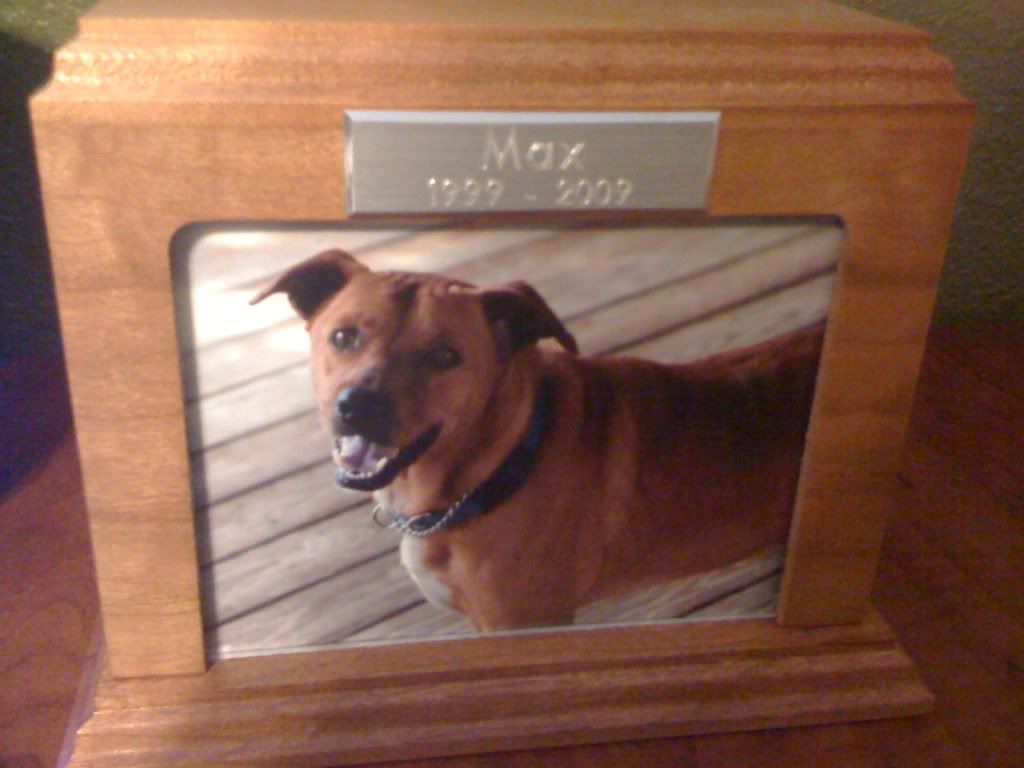 It's been a year now that my old friend Max checked out early.  It was rough trying to cope with that one.  Max was a loyal friend for over 10 years, and an extremely handsome dog. 
  Some of my best memories are with him. We had some good times.  But life goes on.  And I will always remember the good old days.  I have Max's ashes in an urn on my desk in my home office.  Hard to look at some times, but the way he's "smiling" in the pic remind me of how happy a dog he was.  I'm not the only one that misses him.  Murphy, his brother from another mother, is pretty lonely still.  Two things keep me from getting another dog: 1, Murphy didn't like any dog other than Max, and 2, Max can't be replaced.
So tonight, I will be throwing back a few in Max's honor.  I seriously hope that it's true what they say.  That all dogs go to heaven.  That way, maybe Max can put in a good word for me.  Here's to you, old friend.
-Dave Q.
Names have been changed to protect the boneheaded innocent…
I just want to share with you something that happened to a friend of mine recently.  My friend, Jake, works as a master plumber and was at a job site recently when a truck pulled up with a couple of guys.  One of them got out and asked him if he or any of his crew would be interested in buying some home theater equipment.  The guy told Jake that he was doing some work in an exclusive area of town (The Dominion for those that are familiar with San Antonio) setting up a home theater.  He then said that by accident he was sent double of each piece of equipment and that his home office wasn't aware of this mistake, so that he wanted to unload it in a hurry.
So Jake asked to see the equipment.  They showed him the boxes that were still sealed and didn't appear damaged.  There were boxes for speakers, a projector, a receiver, etc.  Jake saw the brand was Visionmax, which he hadn't heard of.  That's when he called another buddy of ours, Brent.  Jake basically told Brent that these guys were looking at selling all this equipment for $800 and asked Brent to research it online real quick to see if it was even worth that much.  Brent went on the internet, found the Visionmax website, found the model number, and saw that they sell for $4,000!  The website look legit! Damn!  Sounds like a good deal at this point, right?
So after Brent give the thumbs up to Jake, he hangs up the phone.  However, he continues to Google Visionmax.  And then he starts reading a couple of links talking about a scam.  And that's when he reads of a scam where a guy shows up to a work site and claims to have extra home theater equipment!  WTF?!? So Brent calls back Jake multiple times and he doesn't answer.  Finally Jake calls him back and Brent tells him "It's a scam!  Don't do it!"….  (silence on the other end of the phone…)  It was too late.  Jake had given the douchebags $800 for the garbage they were peddling.  A tough lesson to learn.  And we don't speak of it.  Mainly because if his wife finds out, he's a dead man.
Anyway, I hope this makes you aware of these scams and maybe helps you avoid a tough situation.  Not worth it.  Ask "Jake".
-Dave Q.