Flight to Hawaii… $0 (long story)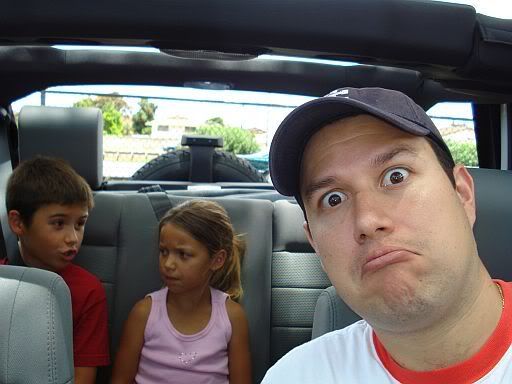 Making the most of your time with your niece and nephew while waiting for your sister as she runs an errand at the store… PRICELESS. 
-Dave Q.
Well, I guess I got a little too hooked on Olympic coverage.  But I am glad it's over.  Too much of a good thing, I guess.  Anyway, let's see what we learned from the 2008 Beijing Olympics.
Michael Phelps is a stud.  A dorky looking stud.
Chinese gymnasts were under age.  Commie cheaters.
Beach volleyball is a good thing, and NBC's segment covering the hand signals demonstrates why.
Costa Rica didn't win any medals.
Becky Hammon + Chris Kaman = Traitors
Usain Bolt is an Ass-Clown.
Synchronized swimming is retarded.  So is BMX racing (that's what the X-Games is for).
Female weightlifting gave me bad dreams.
Team USA men's basketball team was impossible to root for.  Too may rapists and wife beaters.
I forgave Alicia Sacramone the second she did whatever she did to lose the gold medal.  Too cute to be mad at.
USA dominance in softball ends.  I will miss Jennie Finch.  Will NOT miss Crystl Bustos.  Yikes!
The Aussie women's basketball team should have won the gold medal based on looks and uniforms alone.
The opening and closing ceremonies were over the top.  Including the lip-synching kid.
Nastia Liukin has a freakishly large forehead.
The French talk smack to the Americans and were surprised by the bitch slap?  Come on, Frenchy.  You should know better.
Scandals, scandals, scandals.  Way to go China.
Anyway, with the Braves sucking so bad, I need the NFL to get the season going ASAP.  That should bridge the gap until basketball season.  And with basketball and football in full swing, all will be right with the world.  'sigh'
-Dave Q.
Keeping on with the Olympics stuff and Amanda Beard, check out this report below of Amanda Beard dissing Michael Phelps.
I like Michael Phelps.  Seems to be a humble guy.  A specimen of an athlete.  But I have told more than one person during these Olympics that, quite frankly, the dude looks like a dork.   And some say he dresses like a douchebag. He's a winner, no doubting that.  And I admire him for his accomplishments and representing the USA.  But those Gold Medals around his neck are the proverbial porkchops that people would joke about hanging on an ugly kid to get the dog to play with him.  If Michael Phelps weren't a Gold Medal winning Olympian, he would have trouble getting laid.
And let's take this a step further, Amanda Beard is attractive.  Out of the water, she is attractive.  Serving me an entree at Olive Garden, she is attractive.  Ringing me up at Home Depot, she is attractive.  And let's face it, folks, she could do a lot better than Michael Phelps.  I mean, have you really taken a good look at this guy?  Is this a face chicks are attracted to? Why would Amanda Beard go for that?
These CNN commentators are full of shit if they think for one minute that Michael Phelps is a good looking guy and throwing Amanda Beard under the bus for her Playboy and Maxim spreads.  These people lips are so vacuumed sealed on to Michael Phelps' ass it's ridiculous.  Perhaps they want an interview?  But, hey…  he is an Olympic legend now.  And a bright shining star of a celebrity.  Big time accomplishments.  Big deal if hot chicks don't want to sleep with him.
-Dave Q.
Continuing our Olympic coverage, or in this case, uncoverage, here is the latest ad from everybody's favorite group of hypocrites, PETA.  But as much as I hate PETA, they do have some good ads.
Now I have no issues with seeing Amanda Beard in the nude.  But, wow.  This girl must hate clothing.  She will take any opportunity to be in the buff.  Not that there is anything wrong with that.  I insist I have no issues with that.  By all means, Amanda, take it off to your hearts content!  But I will say this:  Where is the mystery with this girl?  She leaves nothing to the imagination, and that sucks to some degree.  She must have been absent the day they taught 'Tease 101′ in whatever school girls go to to learn all their tricks.  Damn dirty tricks.
-Dave Q.
Today is my nephew's birthday.  I can't believe this kid is now 10 years old.  Double digits already?  Damn.  Time really flies after you hit 30.   Anyway, here he is terrorizing some poor crab he caught in his net at Kailua beach in Hawaii.  I know you can barely tell, but there is a crab in there.
Happy birthday, Matthew.  Enjoy the Nintendo Wii!  Even if it means you want to play it all hours of the night and drive your mom crazy.  She will love that.
-Dave Q.
I just found out that CBS is going to bring back Hawaii Five-0 in late 2009.  Can you imagine that?  A modern day version of the show would be awesome!  There goes my imagination again.  Beaches.  Hula girls.  Oh the potential…
One thing that can't be argued is that Hawaii Five-0 had one of the coolest television intros in history.  What made it so cool?  The music.  That theme song is simply the epitome of cool.
Hmmmmm.  Makes me think about what my top ten TV intros of all-time would be?  Perhaps I will address this intriguing issue on a later post.
-Dave Q.
So the 2008 Olympics got rolling this past weekend.  And although most of the Olympic games aren't worth scheduling time around, I admit to being psyched up about women's beach volleyball.  And anyone that knows me will tell you that watching Olympic women's beach volleyball is a sure-fire way to get my Olympic juices flowing!  That, or I have acid reflux.  Not 100% sure.  And since here in the states they will surely be televising each USA women's match, I truly hope their opponents are hot.  Because I really don't think the American women, Misty May and Kerri Walsh, are all that attractive.  In fact, let me go as far as to say that Misty May is kind of fugly.  Maybe there is another USA women's team?  Anyone know?  With cute girls, maybe?  A team worth getting behind?  Is it so hard to have a girls volleyball team that is competitive and hot?
Now here's a volleyball player easy on the eyes.   This is Tian Jia from the host country of China.  The girl has nice form.  Very nice form.
Here's something that shocks me.  Cheerleaders?  At a women's beach volleyball game at the 2004 Athens Olympics?  Makes me think of that 'Beer Heaven' commercial.  I mean, can it get any better than that?  The athletes are already hot and dressed like cheerleaders, and then they bring our real cheerleaders?!  Hell yes!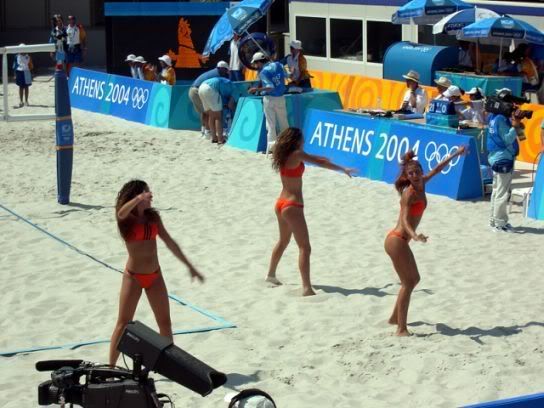 I, of course, will be hoping for U.S.A. gold medals all around.  That is, except for one event.  One American team full of millionaire thugs, a wife beater, a greedy jerk, and one rapist (that we know of).  I'm talking about the USA men's basketball team.  Maybe in this regard I am anti-American, but I simply can't pull for a team the has the likes of Kobe Bryant, Carmelo Anthony,  Jason Kidd, Carlos Boozer, etc.
Don't get me wrong, I'm proud to see Dwight Howard, Dwyane Wade, and a couple of other decent guys represent the USA, but the Dream Team gimmick has run it's course.  And I really don't want to see a piece of crap like Kobe Bryant getting a gold medal.  So… we'll see what happens.
So Here's hoping for a near USA sweep!  And lots of beach volleyball.  I hear Brazil might be a team worth watching…
-Dave Q.
God bless my parents.  They have been going over to my house during the week while I am at work and going crazy with all the bathroom remodeling.  If they weren't involved in this, I would probably be paying a contractor thousands of dollars that I'd rather spend on something else.  Needless to say, I am going to take them to a very nice dinner when we are done.  A nice steak for my Dad, and since my Mom doesn't eat meat, a nice, thick, juicy salad for her. Anyway, things are coming along pretty good.  The master bathroom is 95% done now.  The second bathroom is, I would say, about 65% done now.  Hopefully they can both be done in about a week.  That will be a huge accomplishment, since the bathrooms are definitely the most difficult part of this project.  It would be nice to get that part out of the way.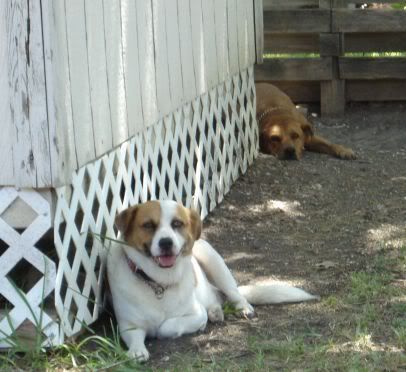 So I've noticed Max and Murphy aren't happy.  Anyone that has been to my house knows that I have a decent size deck in my backyard.  Usually the dogs hang out on the deck, lounging around during the day and barking at the moon at night.  But since we started this home remodeling project, we set up the wet saw on the deck and have other various tools are scattered about there.  Well, Max and Murph haven't cared too much for that.  They've abandoned hanging out on the deck and now hang out next to the tool shed.  Whenever I look over there, I see them both giving me the glare.  Believe it or not, I can feel the glare.  Kind of creepy.  Hang on, boys. We're going through the home stretch!  You can reclaim the deck soon.
-Dave Q.