Archive for September 23rd, 2007
Mexico's finest export since tequila, Salma Hayek, has given birth. She is now the mother a baby girl and both mother and daughter are doing well. I have to tell you, I'm pretty shaken up about it.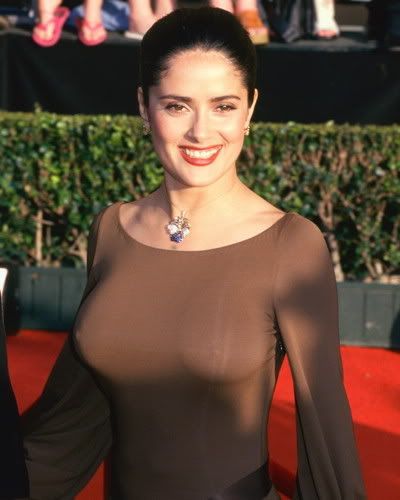 Salma Hayek as we knew her is pretty much done. I'm sure she's a talented actress and she will be back in films doing the "acting" stuff. But people didn't like her for her acting. People liked Salma Hayek because of her kick-ass body. If someone saw that Salma Hayek was going to be in a movie, they would see the movie because there was potential for her skirt to fall off or her blouse to burst open. The girl was stacked!
I know that other celebrities have kids and then hit the gym hard and in some cases look better than before. Gwen Stefani for example. But the difference between those girls and Salma Hayek is that in most cases the girls that get back into hard core shape are usually extremely thin to begin with. The kind of girls that you can see their ribs and pelvic bones. Salma Hayek isn't like that. Salma Hayek is voluptuous. She has had curves up and down since the first time she hit the big screen. Probably one of the biggest reasons I became a fan. So I just don't think she is going to get back to a point where her being half naked is going to sell tickets. And I really don't want her to go all Britney Spears on movie buffs everywhere and try to do something sexy before her body is ready. Play it safe, Salma.
I actually met Salma Hayek back in 1997. She was in San Antonio promoting "Fools Rush In". My buddy Jay and I rushed downtown and got in line to get a picture and an autograph. She was very short, had a much stronger Spanish accent than she has in her films, and gave me a kiss on the cheek when I told her I skipped a History exam just to come and see her. I have a picture of her and I that, despite the idiot grin on my face, I would proudly post here, except that I never got around to scanning it. I will put that on my to-do list. So until then, here's a more recent Salma Hayek image above.
In memory of the hot version of Salma Hayek. I know deep down this is how she would have wanted to be remembered.
-Dave Q.