I was recently reminded of a chat I had with my co-worker, Bonnie.  This "chat" actually took place in cyberspace.  My company has an internal instant messaging program that we use for quick communications.  Anyway, last fall I had the embarrassing experience of getting stuck in a revolving door in the cafeteria at work.  A bone-head move on my part.  Co-workers had a good laugh at my expense and I couldn't help but laugh too.  If you could picture it, I was basically encased in space the half the size of a phone booth.  And revolving doors are made of glass so everyone got a good look at me and I got a good look at them laughing and pointing.  Eh, who could blame them?  I would have done the same thing.  Anyway, it took a couple of minutes for security to get there and free me from my captivity.
Of course, when something embarrassing at work happens to you, it spreads like wildfire.  And spread it did.  I got emailed about it.  Some calls.  A couple of texts.  All giving me a good ribbing.  It was about the time I got the last text when Bonnie instant messaged me.  So I decided to have some fun with it…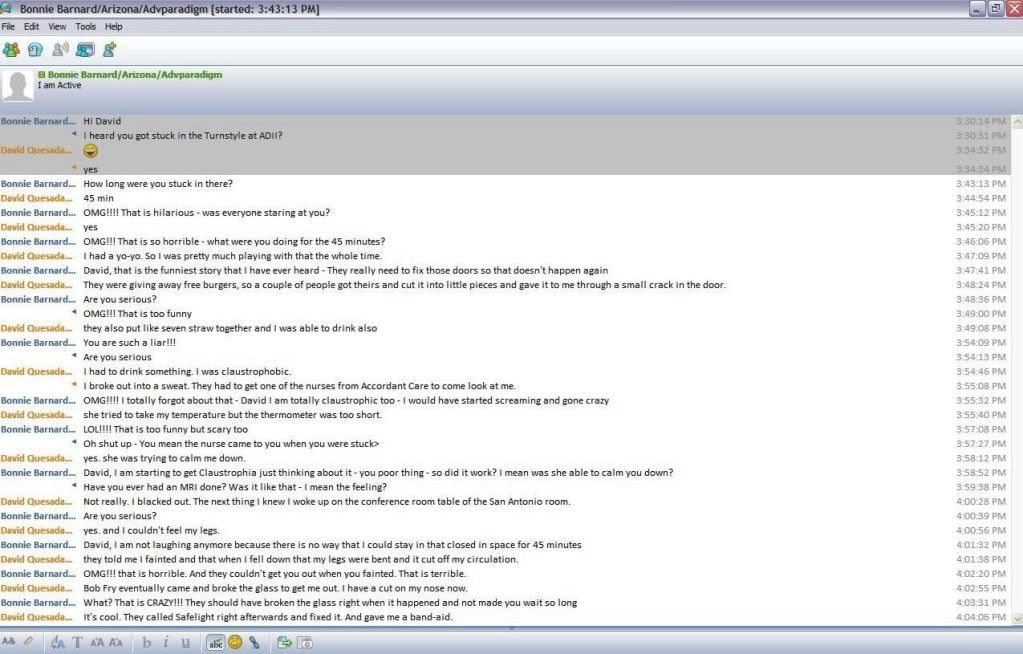 Bonnie is sharp.  But she is also very trusting.  So, yes, I did feel bad about it afterwards.  But not bad enough to not take a screenshot of the chat and share it with all of you.
On a side note, Bonnie is going to be performing at The Cove off of Cypress & Main on Friday night.  I really wish I could be there to support her on her big night, but I will be out of town.  I hope someone takes some video of the event.  I know she will do great!
Good luck tomorrow night, Bonnie.  And I hope you forgive me someday for posting this. 
-Dave Q.
3 Responses to "Chatting it up with Bonnie"