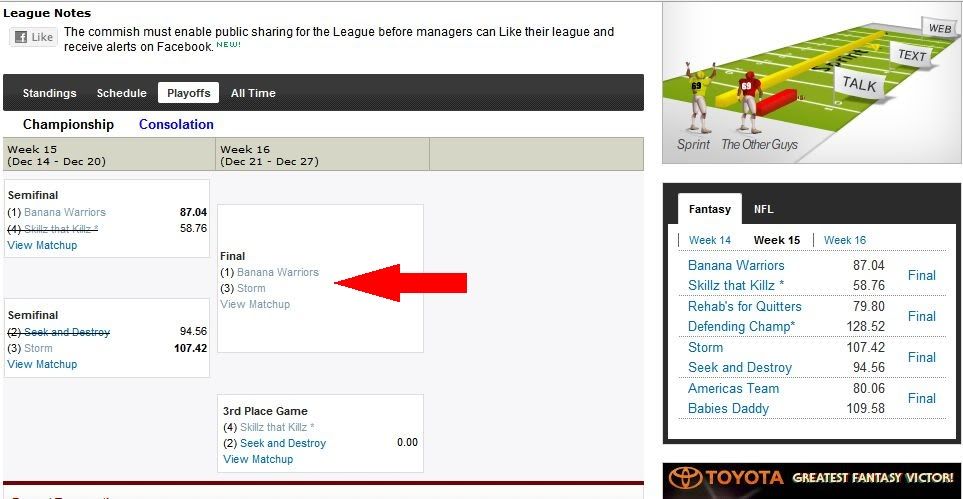 Well, well, well!  Not only did I make the playoffs in my (primary) Fantasy Football League, but thanks to Adrian Peterson sitting out the game last night against the Bears, I'm in the championship, baby!  But let's not get too excited.  Let me explain why…
First, I played for the championship last year, too.  And it didn't turn out that well.  In fact, my team was pretty much roofied and raped, if I remember correctly.  Actually, maybe I don't remember it that well at all.  Roofies have that effect, right?  That might be for the best.
Second, my star QB, the guy that has brought my team and carried them nearly all the way to this point got a concussion and may not play.  I'm talking about Aaron Rodgers of the Green Bay Packers (for you non-football types).  In fact, he missed last week and because of that I was a crazy night from Adrian Peterson away from being eliminated.  That said, AP didn't play.  And the Banana Warriors roll on!
Third, and this is my biggest concern, I am playing the one guy in the league that I couldn't beat all season!  Doh!  The Banana Warriors finished the season 11 – 3.  Two of those losses came to this chump.  So, yeah.  Not good.  Possibly no Aaron Rodgers and facing the guy who pummeled me twice is not the situation I want to be going into the championship game with.  But, 3rd time's the charm, right??
So this time next week, I will either be bummed out or on cloud 9.  Maybe I should have put "League Championship" on my Christmas list?  Dammit!  I already mailed it.
-Dave Q.
(Let the record show that I usually play in several fantasy leagues, but this league has the most money and prestige involved, so it takes priority over all others…)
One Response to "Playoffs? Playoffs?!?!"