So this past week began the NBA pre-season.  And that translates to the NBA regular season starting up very soon.  I love basketball.  I'm a die-hard San Antonio Spurs fan.  So I am very pumped up about seeing the season get rolling.  I want to believe the Spurs will do well, but I am skeptical, especially with Manu Ginobili on the injured list with a bad ankle.  I feel your pain, my latin brother!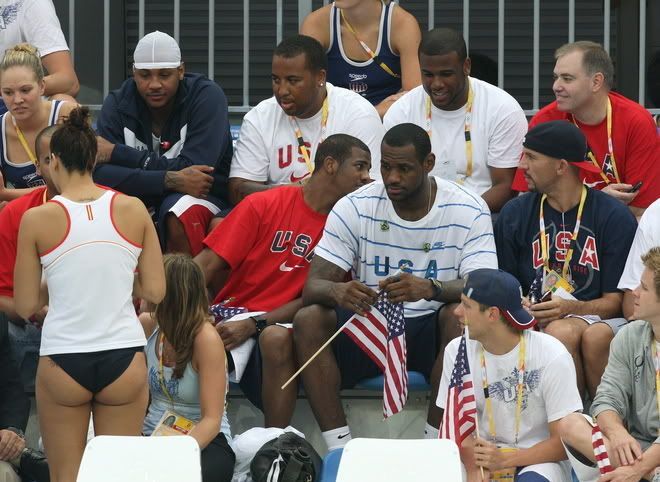 Anyway, my old friend Roy sent this pic to me and seeing about how pre-season is the time to get focused on the upcoming season, I thought it would be funny to show Lebron James focussing on "other things".  I guess it goes to show how dominant Team USA really was in the Olympics to be so easily distracted.
Come on, King James.  Really?  I'm disappointed.  If you're going to be distracted by a female, can't it be one with a firmer butt?  I know you can do better than that.  And if you cannot, then I in turn cannot in good conscience draft you in my fantasy basketball league.  Because sometimes it's not just about "scoring".  Get it?  Scoring?  Ok, I'm done.
-Dave Q.
One Response to "Ah, yes. Basketball season is nearly upon us."