Archive for the 'Funny' Category
Here's a new twist on those boring flight safety videos.  Yeah, it will get your attention, but not for too long. Once you realize that the females in body paint aren't exactly "body paint" worthy, (not to mention that no one wants to see dudes with no clothes on), then you would probably go back to reading your book, or sleeping, or praying, or whatever pre-flight ritual you've claimed as your own.  Mine is the praying one.
Now if they had this Delta chick in body paint, that's a different story.  Hell, I might take a flight just to watch the video.  I love the way she wags her finger at you.  Like she's scolding you for having naughty thoughts.  Don't judge me.  I know I wasn't the only one.
-Dave Q.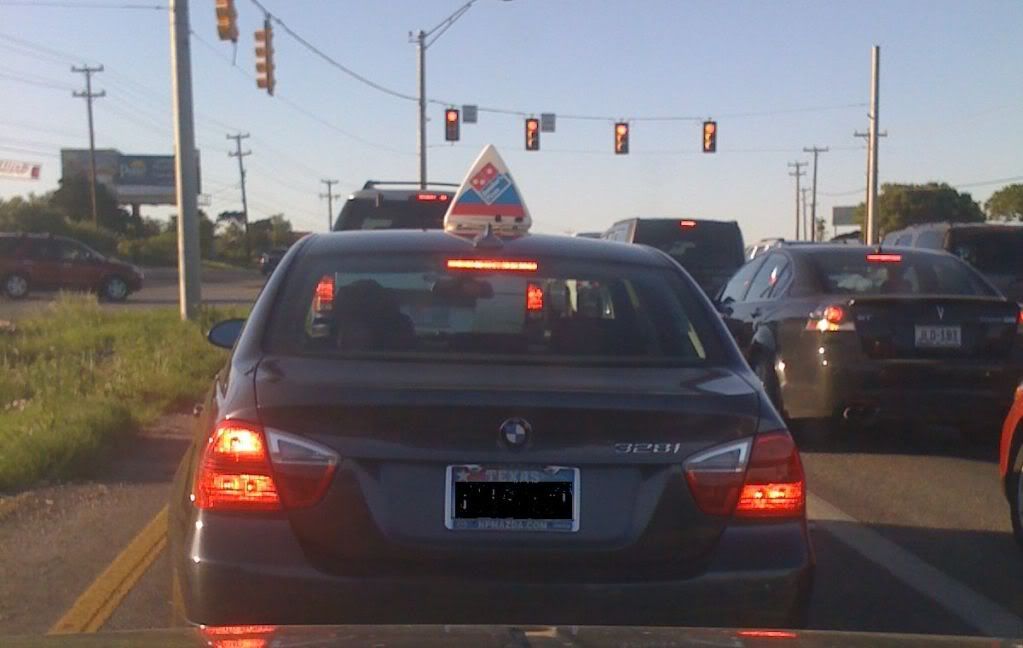 I snapped this pic over the weekend.  Nice car.  But that Dominos sign on the roof of it can't help when it comes to the ladies.
I get that some people are consumed with status symbols.  But to be forced to deliver pizzas because of it?  Come on, man.  Sell the car.  Drive something a little more modest.  And then you won't have to take that part-time job just to pay your car note.  You also won't have people taking pics of your fancy car delivering pizzas.  What's so hard about living within your means?
I didn't take into account that it could be some spoiled rich kid who got the BMW for their birthday and their parents forced them to get a job.   In which case I applaud the parents.   But let's face it, chances are if you're buying your kid a BMW, then they don't need a job to get some cash. They have mommy and daddy for that.
I almost feel compelled to get Dominos delivered when I watch the Spurs-Mavericks game tonight in the hope that I get this guy as the delivery driver.  If I see a bimmer parked in the street when I open the front door, not only will I give him his $3 tip, but I'm also gonna give him a pat on the shoulder.  And maybe an "I'm sorry".
GO SPURS GO!!!
-Dave Q.
Let's see.  You're stranded 10 hours over night at Pittsburgh International airport.  You're pretty much alone there.  And you have a video camera.  What do you do?  You kill time.  And you get it all on tape!  Hey, it fights the boredom, right?
With all the traveling I have on tap over the next month, I can easily see myself being put in a similar situation.  Would I do some of this stuff?  Probably. Would I take video of it?  Don't think so.  In fact I would avoid video all together.  Other than of course the video from the security cameras that would probably get me on some kind of "no fly" list. 
-Dave Q.
I've received some very nice wedding announcements over the years.  All have been in either sent through the mail or in email form.  But check this one out.  I'm not sure what this says about Jeff and Erin.  Are they super creative?  Or do they simply have too much money and time on their hands?  You be the judge.
On another note, how about that height difference, huh?  Wow.  I know a lot of girls that would not be cool with that.
-Dave Q.

EMBED-Girlfriend Scared by Fake Head in Bed – Watch more free videos
Nothing like a good prank around Halloween.  Here's hoping you get into the spirit of things!
Be careful out there this weekend. 
-Dave Q.
Ever notice how infomercials are so negative?  I haven't.  Because I won't watch any.  And if a commercial comes on, I just tune it out.  Or maybe it's more like I black out.   Either way, the message isn't received.  Why do hate them?  Let's see…
The over-acting.
The exaggerations.
The crappy products.
The poor video quality.
The negativity.
The scare tactics.
The video below pretty much sums it up.
So yeah, infomercials can go straight to hell.  But I'll cut a little slack for the Shamwow guy.  Not because I will ever get a Shamwow (never say never, right?), but since I've been cooking a lot lately, I can really use a Slapchop.
-Dave Q.
The video that is, not the boobs. It matters not if the boobs are real.

-Dave Q.