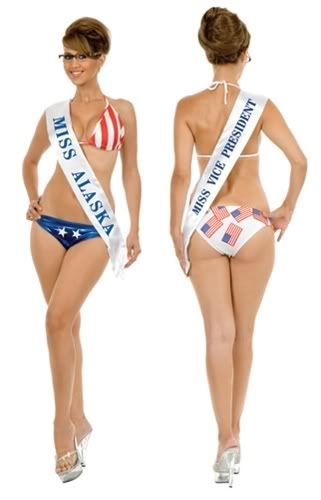 We all saw this one coming.  And seriously, when is Halloween better than during an election year?  And it doesn't hurt that one of the party tickets has a fairly attractive VP candidate.
You know there will be a ton of "Sarah Palin"s out there at those Halloween parties this year.  But will any of them be daring enough to wear this version of the costume?  With my luck, I will run into a Sarah Palin wannabe that has no business being in a bikini of any kind whatsover.  I can't stress that enough.  Please, No Ugly Sarah Palins!
On another Sarah Palin note, the New York Daily News put out this somewhat creepy slideshow of what other celebrities could play 'Sarah Palin'.  A couple of them are pretty good. Most of them are pretty scary.
-Dave Q.
2 Responses to "The best 'Sarah Palin' costume I've seen to date."