Archive for the 'Noteworthy' Category
I have observed for a while the decline of MySpace. You see, when I first got into it back in 2002, it was a cool networking platform. An innovative new way to find old friends and possibly make new ones. Back then it was a good thing. Today, not so much. It is more of a punchline now. Where girls post slutty pics of themselves, where cyber-bullying and gossip reign supreme, and where perverts can go to see who they can stalk next. To me, it has become utterly repulsive, and ultimately useless.
My only reason for having an account was to keep up with the happenings of my two sisters, who are big fans of MySpace. One lives in California, while the other resides in Hawaii. They put up pics of family and blogged about things they have seen or done. For the most part, all in good taste, which I understood was the original concept of the site. So after logging in today to see what is happening with them, I came to the conclusion that it was time to cut ties with this joke of a website. When canceling, there was a place to comment. Here is what I told the MySpace folks:
MySpace was a great idea when I first got into it back in 2002. Now, it has gotten so "ghetto", that an ad at the front page that appeared after I logged in was an advertisement stating something along the lines of "Want to know how to get the girl? You need the right rims! Pimp your ride! Click here!". WTF? Well, that did it for me. I'm obviously not the audience you are wanting to attract. If I wanted to be subjected to ads like that, I'd record an episode of Jerry Springer. Way to go, MySpace.
So that's that. I don't want to be associated with the trash that the majority of MySpace users now consist of. And I feel like I owe an apology to all the friends and family that I turned on to MySpace a few years ago. It really was a great concept at the time. Had I known it was going in the direction that it did, I never would have suggested it. I can only imagine that the other big social networking sites are heading the same direction. Facebook. Friendster. It's just a matter of time.
Bottom line is, I'm too good for MySpace. And I know quite a few people on there who are too.
-Dave Q.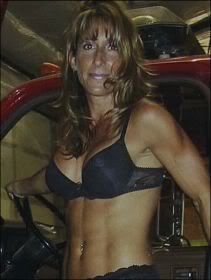 While we're on the subject of politics…
The mayor of a little town in Oregon has some pretty revealing pics of herself on, where else, her MySpace page. Here's one of them…
Her name is Carmen Kontur-Gronquist, and is the mayor of Arlington, Oregon. A little town with a population of about 500. She is taking some heat for her half-naked images. But the Mayor has taken a fresh approach about all this attention her pics are getting.
"I'm not going to change who I am. There's a lot of officials that have a personal life, and you have people in this community who have nothing better to do than scrape up stuff like this."
She has a point. So what if she takes a pic on a city fire truck with nothing but her bra and panties? She looks like she's in good shape, and is obviously wanting to show off her body. Not bad for a forty-something. At least that's what I'm guessing. She may want to back away from the tanning bed a bit.
Anyway, if I lived in that little town in east Oregon, I would be proud of the mayor. I mean, who the hell knew there was an Arlington, Oregon before this happened? And I would definitely vote for her. And keep re-electing her. Until she looked bad in lingerie, that is.
I bet it's fun to see her working the "polls" come election time. Ha! Get it?
-Dave Q.
I hate shopping.  Absolutely hate it.  So over the years I have simply laughed at all the people waiting in line in the cold at 4am for the "Black Friday" specials.  I never understood what the hell was so important to sacrifice valuable time (and sleep) for.  That is, until I saw the ads that came out on Thanksgiving.
There was one particular item that caught my eye.  And of all places it was being sold at, it was the one place I despise.  No, not Best Buy as you might have guessed, but Circuit City.  I worked at Circuit City for a couple of years right after high school.  I did sales.  And to no ones surprise, I'm not a salesman.  So I hated the job.  Throw in the fact that I dated the hottest girl that worked there, and all these dork managers that were trying to get with her suddenly started handing me the crappiest schedules.  To sum up, I really hated that job.
Anyway, I broke down and followed the Black Friday herd.  I got to Circuit City at 4am.  Stood in line for an hour and a half just to get into the store.  Then stood in line for another hour and a half just to pay for the stuff.
Was it worth it?  I can't really say yet.  I haven't set up anything that I bought for myself yet.  The stuff I bought to give as gifts seem to be good deals, so at least I got that out of the way.  And since I hate shopping, getting that out of the way makes the holidays that much more bearable.
I can't say I wouldn't do it again.  But I now know what I would do to prepare accordingly.  So, you never know.  But if there is a next time, I'm definitely taking pictures.
-Dave Q.
Ahhhh yes. Wurstfest. The 10 Day Salute to Sausage.
New Braunfels is a small town, just a 15 minute drive north of San Antonio. It has a strong German heritage, as the name suggests. And once a year, New Braunfels plays host to one of the bigger German themed parties in the country. And beer and sausage are the focus. It's called Wurstfest. And it's damn fun.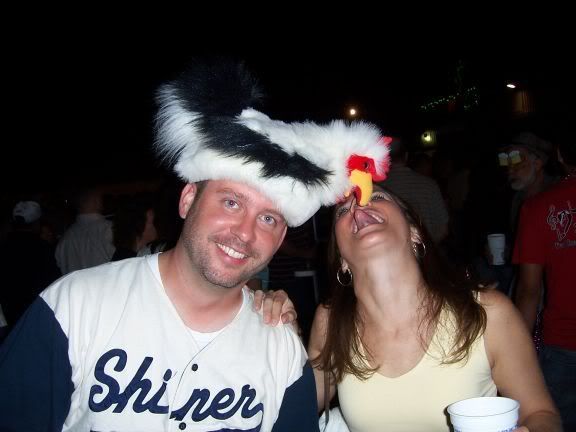 So on Saturday, we went. We ate. We drank. We took pics. We drank. We danced. And drank some more. Since I'm not a regular at Wurstfest, I am just figuring out the hat thing. Apparently wearing stupid hats is highly recommended.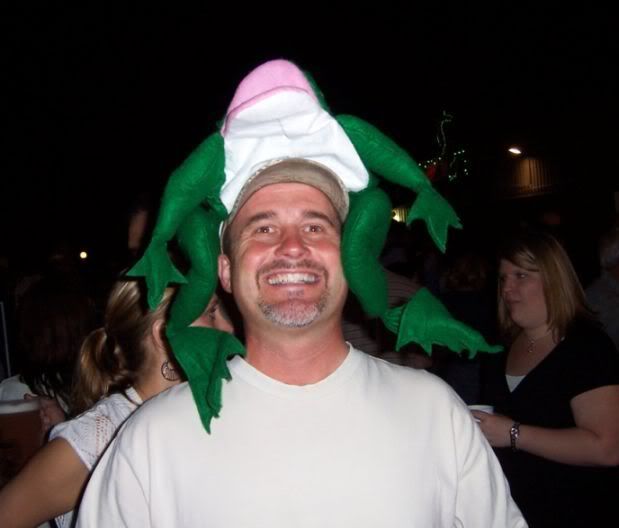 Let me sum up Wurstfest. If Fiesta is Mardis Gras for Latinos, then Wurstfest is Fiesta for white people. Yeah. That sums it up. Anyway, we had a great time. I highly recommend you go next year.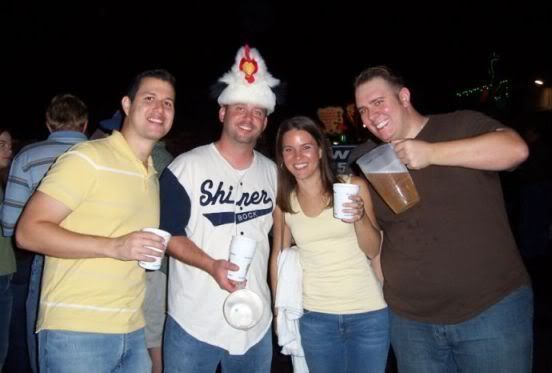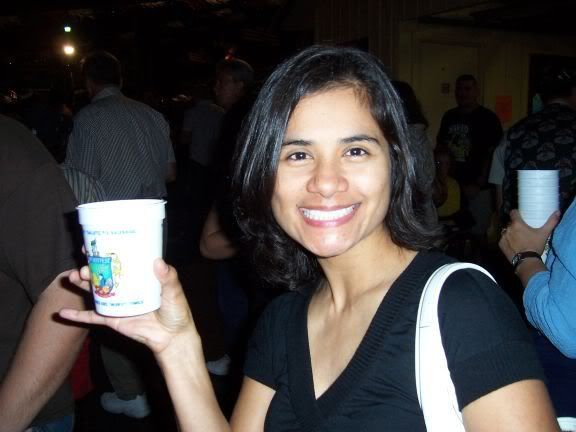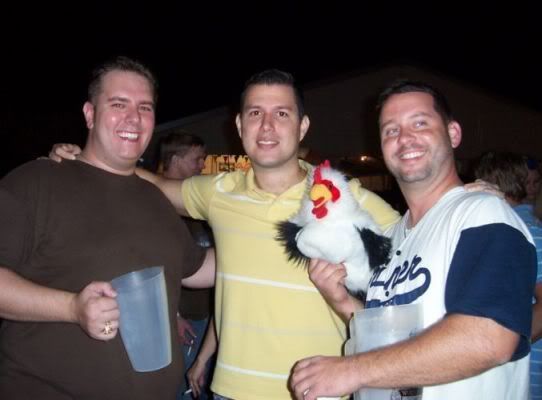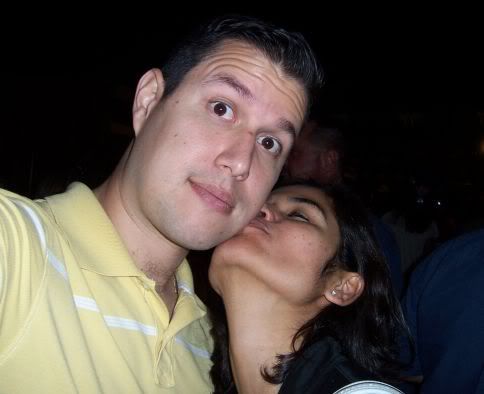 Seeing all the people walking around eating sausage, I couldn't help but remember the Broken Lizard film, Beerfest. And the scene with old German whore Cloris Leachman warming up the sausage links. Ha! That was classic.
-Dave Q.
Halloween. A time for ghosts, goblins, trick-or-treats, and slutty outfits.
It's the only time of year when the average girl next door can dress up super naughty and not feel bad about it. And most guys don't feel bad about this either. You go to a bar or club the weekend of or before Halloween, and you're going to see a great deal of skin. Or at least you will in San Antonio, where late October weather doesn't stop a girl from exposing some flesh.
I went to Swig North this past Saturday for a friend's birthday get together. The staff was all dressed up. And of course the female bartenders are dressed to get the biggest possible tips. And then there were all the "Naughtys." Naughty cops. Naughty nurses. Naughty Witches. Naughty Belly Dancers. Naughty Dallas Cowboys Cheerleaders. I have to say that most of the girls showing skin were actually in decent shape. Lately all the provocatively dressed girls I've seen are a donut away from Weight Watches. So this was a nice change of pace.
Anyway, tomorrow you can expect to see a lot of the more innocent girls you know to dress as if they were walking around an Iranian market. They will probably be making a focused effort on covering up and not wearing anything sexy after they got dressed all slutty and got a little tipsy. What better way to make amends for all the pics taken of them freaking on the dance floor with a guy in a Gumby costume. Except it wasn't a guy in a Gumby costume, but a ficus tree.
And just for the heck of it, a classic video wit even more classic parents! This cracks me up…
-Dave Q.
I am now a minister. Yes, it's true. And so is Horbi. Apparently it really is that easy to become ordained!
I went online during Labor Day weekend after talking to my buddy Chase's best man, Kanan. A couple of guys there kept making jokes about if something were to happen to the Priest, Kanan would have to be ready to step in. I finally asked him about it and he told me that through a website he became and ordained minister and actually has performed a weeding ceremony. Well, this sounded too cool and easy not to do. So the next day I found the website and submitted an email to a church in Modesto, California to become ordained.
I kind of forgot about it until today. I went through my Gmail inbox and found the email confirmation from "Brother Kevin". The email was basically telling me I am now a part of the Christian clergy and I can now legally perform a number of ceremonies. Ha! Take that, guidance counselor!
I told Horbi about this and he got all kinds of crazy pumped up to do it too.  So he did.  Now were are fellow brothers of the cloth.  Brother Dave and Brother Horbi.  I decided to bless my bottle of Ozarka when I got thirsty.  I had never drank Holy Water before.  Tastes good!
So, if anyone needs me to perform a wedding ceremony, needs to me to baptize their kid, or needs someone to preside over a funeral, then I'm your man.  But I can't do it for free.  The good Lord would want me to charge $1,000 a wedding.  And since children are smaller, then 50% off my going rate for baptisms.  Funerals?  Well, if you have to ask, you can't afford me.
-Rev. Dave Q.
In case you haven't seen this, here is Lauren Caitlin Upton, Miss South Carolina Teen USA.  And here she is answering a question.  This is just hard to watch.
The exchange went a little something like this:
Question: "Recent polls have shown 1/5 of Americans can't locate the U.S. on a world map, why do you think that is?"
Miss South Carolina: "I personally believe that U.S. Americans are unable to do so because, uhmmm, some people out there in our nation don't have maps and uh, I believe that our, I, education like such as, uh, South Africa, and uh, the Iraq, everywhere like such as, and I believe that they should, uhhh, our education over here in the U.S. should help the U.S., uh, should help South Africa, it should help the Iraq and the Asian countries so we will be able to build up our future, for us."
Huh?  Ok.  Obviously this girl got caught off guard.  And as much as I cringe when I see this video, it's obviously not the end of the world for her.  Put it this way, I know her name, but I don't know the name of the actual winner.  Funny how that works, huh?  She will probaby benefit financially in the end.  Plus she looks good in a bkini.  So I don't feel sorry for her.  In fact, I thank her.
And of course you knew there would be some mocking of Miss Teen South Carolina.  Could have been funnier, but I guess this was the best someone could do.
By the way, how does Mario Lopez keep getting these gigs?  Or at least it seems like he's done this stuff before.  Wasn't he up to replace Bob Barker on the "Price is Right"?  Someone clearly sold their soul to Satan.
-Dave Q.
SuperBad comes out this weekend. For those of you that have been living under a rock, it's another comedy from director Judd Apatow, whose movie credits include The 40-Year-Old Virgin and Knocked Up. Considering how good those movies were and how good the trailers have been for SuperBad, let's just say the bar is being set pretty high. I have high hopes here, Apatow! Don't let me down!
So I hope to be checking out SuperBad this weekend. I also hope to catch up on some sleep. And mow the lawn. But with the recent insane rainfall around here, I will gladly fill in the time I would normally spend mowing the yard with… more sleeping.
The trailers from this movie have been so damn funny that they have forced me to change my screen name on Call of Duty to "McLovin". So when I kill someone on there, it says they were killed by McLovin. Ha! And if they knew how much I sucked at Call of Duty, can you imagine how pissed they would be? I can hear them now. "Some crappy ass player named McLovin has his moments. He sucks. But he does have his moments"
-Dave Q.