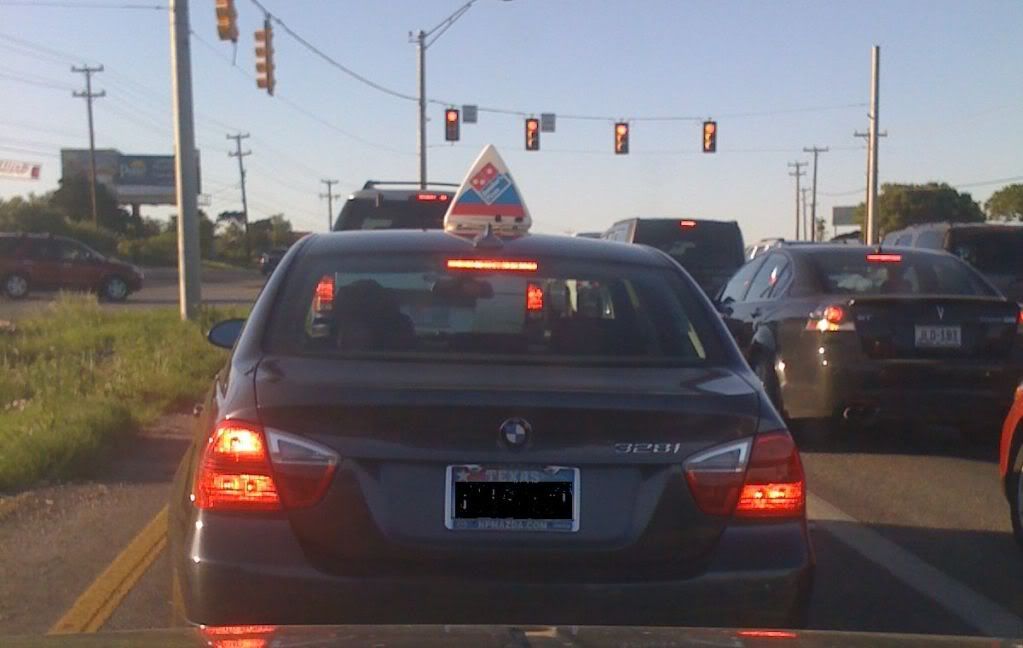 I snapped this pic over the weekend.  Nice car.  But that Dominos sign on the roof of it can't help when it comes to the ladies.
I get that some people are consumed with status symbols.  But to be forced to deliver pizzas because of it?  Come on, man.  Sell the car.  Drive something a little more modest.  And then you won't have to take that part-time job just to pay your car note.  You also won't have people taking pics of your fancy car delivering pizzas.  What's so hard about living within your means?
I didn't take into account that it could be some spoiled rich kid who got the BMW for their birthday and their parents forced them to get a job.   In which case I applaud the parents.   But let's face it, chances are if you're buying your kid a BMW, then they don't need a job to get some cash. They have mommy and daddy for that.
I almost feel compelled to get Dominos delivered when I watch the Spurs-Mavericks game tonight in the hope that I get this guy as the delivery driver.  If I see a bimmer parked in the street when I open the front door, not only will I give him his $3 tip, but I'm also gonna give him a pat on the shoulder.  And maybe an "I'm sorry".
GO SPURS GO!!!
-Dave Q.
One Response to "Wine taste on a Beer budget."