Ever notice how infomercials are so negative?  I haven't.  Because I won't watch any.  And if a commercial comes on, I just tune it out.  Or maybe it's more like I black out.   Either way, the message isn't received.  Why do hate them?  Let's see…
The over-acting.
The exaggerations.
The crappy products.
The poor video quality.
The negativity.
The scare tactics.
The video below pretty much sums it up.
So yeah, infomercials can go straight to hell.  But I'll cut a little slack for the Shamwow guy.  Not because I will ever get a Shamwow (never say never, right?), but since I've been cooking a lot lately, I can really use a Slapchop.
-Dave Q.
So I'm hoping that Obama's stimulus bill does what it's supposed to do.  The country is hurting and we need this to work.  But what concerns me is our national debt.  It is reaching numbers that are hard to comprehend.  I mean, over 10 trillion?  That's a lot of dough.
I have an idea for paying that off.  Or at least to try and make a dent into it.  With all the money that Obama raised for his campaign, why not do that again?  I think he should just go on tv, tell the American people what website to visit to donate, and then let her rip!  The guy can be very persuading.  If he can convince the American people to pony up some cash, then we can start reducing this debt in no time.  And with his popularity all over the world, don't be surprised when we see some Euros or Yen in the mix bag of donations.  Bottom line is, with some enthusiasm and the twinkle of Obama's smile, we could get this done in a few months.
I think it would be worth a shot.  However, I won't be contributing.  I mean, come on.  It was my idea. 
-Dave Q.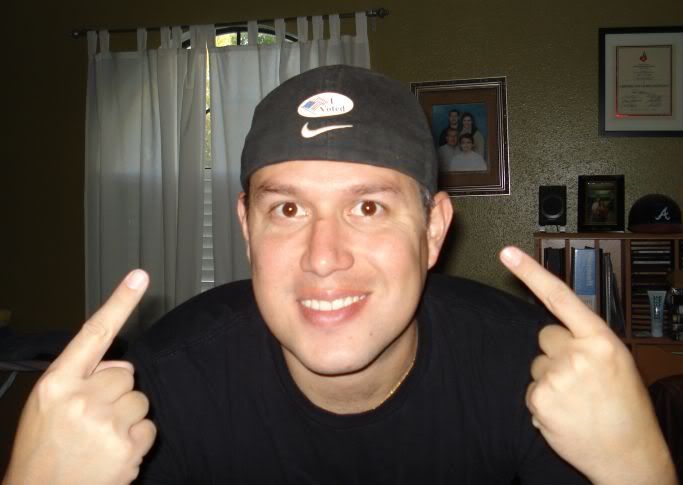 Well ladies and gentlemen, I'm done.  I have participated in this historical election.  I can look back years from now amd say I played my part.  Want proof you say?  Well, explain the "I Voted" sticker on my hat, Columbo?
So how many of you are slackers (like I'm betting my sisters are) and haven't stood up to the plate and voted?  How many of you are waiting until Election Day?  How many of you don't want to vote for either of these jokers?  How many of you put me in as your write in?
-Dave Q.